Mass Hysteria definition: Current Overreaction Is The Perfect Example
According to Wikipedia, the definition of Mass Hysteria is
In sociology and psychology, mass hysteria (also known as mass psychogenic illness, collective hysteria, group hysteria, or collective obsessional behaviour) is a phenomenon that transmits collective illusions of threats, whether real or imaginary, through a population in society as a result of rumours and fear (memory acknowledgement).
In medicine, the term is used to describe the spontaneous manifestation (production of chemicals in the body) of the same or similar hysterical physical symptoms by more than one person. A common type of mass hysteria occurs when a group of people believe they are suffering from a similar disease or ailment, sometimes referred to as mass psychogenic illness or epidemic hysteria. Wikipedia
Consider the following data and decide for yourself
Over 22K people will die today from hunger; this probably one of the most horrible of ways to die
110K have died so far from this year's flu and roughly 650K die a year from respiratory-related diseases
70K mothers have already died this year giving birth
They have been over 242K suicides this year
7 million children under the age of five have died this year http://bit.ly/32wVaQA
25 million people die every year in road crashes https://bit.ly/2vId4UJ
more than 270K pedestrians die each https://bit.ly/2QEW7BN
88K will die from alcohol-related causes only in the USA https://bit.ly/2QEW7BN
22K Brits will die because of prescriptions mix-ups https://bit.ly/2QDMm6U
Between 250K to 440K will die as a result of medical errors in America https://cnb.cx/33DF9cg
two decades worth of analysis reveals that over 100K Americans will die because of taking prescription drugs. A recent study states that the figure is close to 128K. https://bit.ly/39cYtOw
This article from the NCBI database states that 100K Americans died as a result of medical errors and it's dated 1999. https://bit.ly/3dxoRGy
5K Americans died from drug overdoses in 2018 https://cnn.it/2xhpEL6
So the coronavirus epidemic supersedes all this and deserves the attention it is getting? We have not mentioned Cancer, smoking and cardiovascular diseases, all of which kill millions per year. What about the innocent children dying every day? They don't matter. What's shocking is that the other viruses that were deadlier did not even receive the same amount of attention. One has to ask the question of what is wrong with the retarded media.  Are reporters today nothing but mindless bots?
The disinformation campaign is now in full swing
In the short-term technical analysis cannot identify support levels because we are dealing with madness and that is the reason, we added the new level in the anxiety index.  What exacerbates the situation is that there is very little liquidity, look at the bid and ask price on some options they are unreal, for example, a bid of 1.40 and ask of 5.00.  This provides a few big players with the opportunity to move the markets in whatever direction they see fit.
The disinformation campaign is so rampant, I felt that this something I needed to investigate directly to offer Tactical Investors a better look at what is really going. So I decided to take the risk and go to solo to Asia without announcing it.  I wanted to see for myself if the US and the West, in general, was overreacting and if Asia was doing a better job on the psychological frontier. So far, I have visited Vietnam, Malaysia, Cambodia, Singapore, and Indonesia and I can honestly state that they are doing a much better job of controlling the panic factor then we are doing in the US.
Hysteria overcomes Logic and that's when things run Amok
People are not emptying shelves left, right and centre, in fact, the only thing seems to be selling like hotcakes are face masks.  One of the reasons for this lack of hysteria is possibly due to the fact that most third world/developing nations are used to dealing with hardships that developed nations like the US are not. The contrast in the way the Asians are dealing with from a psychological standpoint of view is humungous.
For example, Jakarta is about to declare a state of emergency and yet people are not running around in panic. Malaysia is closing down its borders and the biggest reaction was that Malaysians working in Singapore raced back home to pack up extra supplies and then headed back to Singapore, where they will stay for an extended period. Many Malaysians commute daily from Singapore to Malaysia. If the border is closed, they won't be able to go back so they wanted to make sure they had enough clothing etc. for their extended stay in Singapore.
If the leaders of the West but in particular the US could act in the same way to instil calm in the populace the reaction would be different. There are no lockdowns here, at least not yet (other than in China) and the rate of infection is not going ballistic. Fear increases stress and stress actually weakens the immune system.
Videos Illustrating How China & South Korea are Handling Coronavirus outbreak
How China is Handling Corona Virus 1
China Using Drones To Assist With Coronavirus Outbreak
South Korea Using Army To deal With Coronavirus
Stock Market Outlook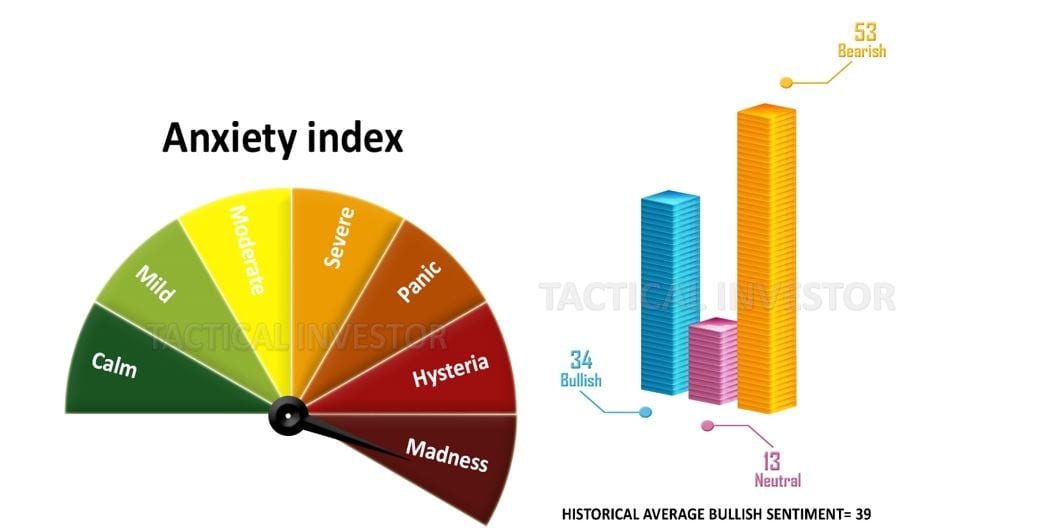 We have moved deeper into the madness zone, and neutral sentiment has dropped to levels not seen for years. It is trading at 13, but bullish sentiment while below its historical average is still quite high, it would be ideal for it to drop below 24. Bearish sentiment continues to trend higher, and that's a good sign.  As things stand right now, we are close to another "mother of all buy signals" that would match that of 1987 and 2008. Our indicators just need to dip slightly lower into the oversold ranges.
For the "father of all buy signals", the indicators would need to drop deeply into the oversold ranges, and the gauge on the anxiety index needs to move almost towards the end of the madness zone. Finally, bullish sentiment should drop below 22%. Remember this is a generational type signal so one should not expect it to occur with ease.
Subscribers who were with us back before Dec 2018 will remember how delighted we were when the number of new highs dropped to -10%. While everyone was panicking, we stated this was a fantastic development as the trend was positive. Now=look at the current readings; they are close to hitting minus 20%, something they did not even do in 2008.  Given that the trend has not turned negative, this is a monstrous development. When the tide turns, we suspect that the Dow could rally 3600 points in one day with an overshoot to 4200 points.   While everyone is focussing on the downward plunge, the melt-up is going to be so spectacular that it will catch all everyone and we mean everyone by surprise.
Courtesy of Tactical Investor
Coronavirus Mass Hysteria: buying toilet paper, canned food…
What explains?
First it was the masks, then hand sanitisers. Now it seems the novel coronavirus outbreak has people rushing to stock up, among other things, an essential item: toilet paper.
Shelves have been emptied across the world. In Australia, a newspaper helpfully printed out an extra eight pages as a "backup loo roll". Fights have broken out, trolleys piled high, and across the United States, Canada and the United Kingdom, most supermarkets imposed a cap to limit the number of rolls a person could buy.
Dubbed #ToiletPaperPanic and #ToiletPaperApocalypse online, there is no shortage of videos capturing the mass hysteria that has swept up globally as shelves are cleared. Canned goods, water bottles and pasta shelves have similarly been emptied out.
So, why are we seeing panic buying across the globe?
"Panic buying and hoarding of supplies is obviously not desirable, but it's understandable, particularly when people see images of cities, regions and even whole countries in lockdown," Michael Baker, professor of public health at the University of Otago in Wellington, New Zealand, told Al Jazeera.
While panic buying was not seen in response to the most recent influenza pandemic in 2009, Baker said the ongoing crisis is similar to a behavioural response during a natural disaster.
"The difference this time is that people now see COVID-19 as a real threat, one that will last for months, and they may not have confidence in the authorities to contain it." Full Story
How mass hysteria happens (and how to avoid the COVID-19 panic)?
Mass hysteria, also known as epidemic hysteria, occurs between two or more people who share beliefs related to symptoms suggestive of organic illness.
Research suggests that real pandemics can lead to mass hysteria.
A key factor that creates hysteria around pandemics is that the population's ability to remain calm and react logically to the situation at hand is blurred and unfocused due to the anxiety and fear felt by large groups of people.
A pandemic, according to the Center for Disease Control (CDC) is defined as a "global outbreak of a new virus". When dealing with a pandemic such as COVID-19, we need to be extremely cautious in the information we share. Pandemics (such as the Swine Flu pandemic of 2008) can very easily turn into mass hysteria cases, even though the threat is very real.
Mass hysteria, also known as epidemic hysteria, is a constellation of symptoms suggestive of organic illness but without an identifiable cause. It occurs between two or more people who share beliefs related to those symptoms, and has been described as a "social phenomenon involving otherwise healthy people."
Mass hysteria has been well-documented throughout history, below are two separate cases from the 1900s that better explain what it's like to be in the midst of mass hysteria. Full Story