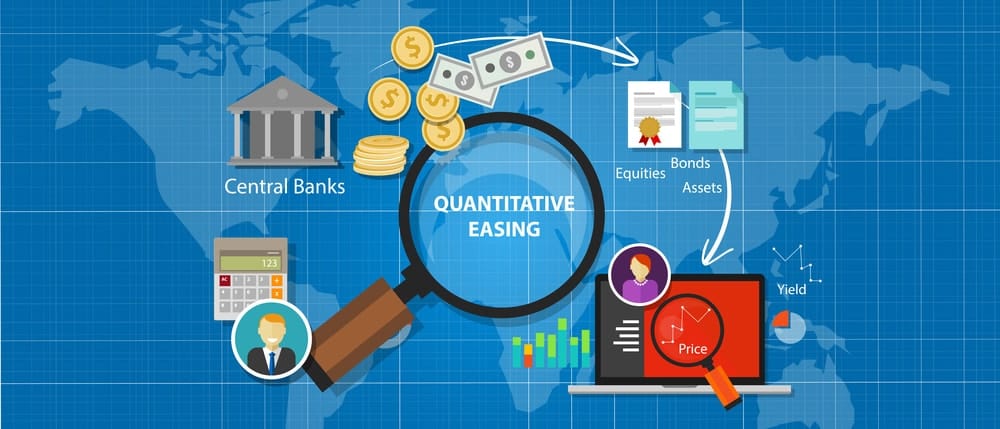 What is quantitative easing? We are entering a new paradigm; get used to forever Quantitative Easing – QE, though it will be given other names along the journey to make it appear more palatable. The US and by default worldwide debt is set to soar to preposterous levels; get used to it and embrace this fact for nothing has changed since we got off the Gold standard and nothing will change until the system collapses, though waiting for that day might prove to be fatal as the masses are completely asleep.
If a national debt of almost $22 trillion is shocking to some; imagine how they will feel when the debt soars to $100 trillion. Many might say no way in hell that is going to come to pass. Take a look at the national debt numbers in the early 1900s. Go back to 1900 and then fast forward to the present. Once upon a time, our national debt was less than 1 million USD.
Now if you told people back then it would be at $22 trillion one day; would the reaction not be the same? We will go on record to state that there is a good chance that worldwide debt will surge to $1000 trillion before the masses discover the emperor is naked, fat, bald and ugly; until then they will continue to believe he is a handsome prince. It currently stands at $247 trillion.
Clarida hints at the Forever QE reality
In a Feb. 22 speech, Clarida acknowledged no doubts. He said that radical monetary policy has worked, that it will continue to work, and that it may well become more radical. He contended that low-interest rates are here to stay and that new policy "tools" must be sharpened and kept at the ready. As to potential adverse consequences of administered rates and the mind-control games meant to "anchor" our collective expectations of the future, he mentioned none.
Certainly, rates are astoundingly low—Bank of America Merrill Lynch recently was able to count $11 trillion of bonds worldwide quoted at yields of less than zero. Clarida said that the decline in the so-called neutral rate of interest "is widely expected to persist for years." Full Story
Stories like this barely receive much media attention, and the masses are too busy dealing with the problems on reality TV or being misdirected by highly politicised B.S. News that only serves to allocate even more time to trivial matters. These developments indicate that developed nations like the US and most of western Europe will become increasingly hostile places to live in. This topic is beyond the scope of this publication, but the trend is in place, the US is no longer the bastion of Freedom and will soon not make it even to the top 10 of the best places to live in.
In The Forever QE Era; strong corrections have to be embraced
In terms of the stock market, until the Fed changes its mind, all sharp corrections have to be viewed as buying opportunities, and backbreaking corrections have to be placed in the category of "once in a lifetime events", provided of course the trend is positive. That is what we are here for; to inform you if the trend is positive (Up) or negative (down). The world is going to witness a Fed that has decided to make a cocktail of Coke, Heroin, Crack and Meth and take it all in one shot. Imagine what a junkie on this combination of potent drugs is capable of doing, and you will have an idea of where the Fed is heading in the years to come.
Now the Gold bugs will cry "I told you so". Our response to this statement; not so fast little bugs. While precious metals will do well, we think stocks in key sectors (and we are not referring to Gold stocks) will pulverise the precious metals sector in terms of returns. One such area is robots (particularly Sex-bots) and AI.
Courtesy of Tactical Investor
Random views on QE
What is Quantitative Easing?

Quantitative easing is an unconventional monetary policy in which a central bank purchases government securities or other securities from the market in order to increase the money supply and encourage lending and investment. When short-term interest rates are at or approaching zero, normal open market operations, which target interest rates, are no longer effective, so instead a central bank can target specified amounts of assets to purchase. Quantitative easing increases the money supply by purchasing assets with newly created bank reserves in order to provide banks with more liquidity.

KEY TAKEAWAYS

Quantitative easing, or "QE," is the name for a strategy that a central bank can use to increase the domestic money supply.
QE is usually used when interest rates are already near 0 percent and can be focused on the purchase of government bonds from banks.
QE programs were widely used following the 2008 financial crisis, although some central banks, like the Bank of Japan, had been using QE for several years prior to the financial crisis. Full Story

Quantitative Easing Explained

Quantitative easing is a massive expansion of the open market operations of a central bank. It's used to stimulate the economy by making it easier for businesses to borrow money. The bank buys securities from its member banks to add liquidity to capital markets. This has the same effect as increasing the money supply. In return, the central bank issues credit to the banks' reserves to buy the securities.

Where do central banks get the credit to purchase these assets? They simply create it out of thin air. Only central banks have this unique power. This is what people are referring to when they talk about the Federal Reserve "printing money."
Lower interest rates allow banks to make more loans. Bank loans stimulate demand by giving businesses money to expand. They give shoppers credit to purchase more goods and services.

By increasing the money supply, QE keeps the value of the country's currency low. This makes the country's stocks more attractive to foreign investors. It also makes exports cheaper.

Japan was the first to use QE from 2001 to 2006. It restarted in 2012, with the election of Shinzo Abe as Prime Minister. He promised reforms for Japan's economy with his three-arrow program, "Abenomics."
The U.S. Federal Reserve undertook the most successful QE effort. It added almost $2 trillion to the money supply. That's the largest expansion from any economic stimulus program in history. Full Story

Why do we need quantitative easing?

The aim of QE is simple: by creating this 'new' money, we aim to boost spending and investment in the economy.
We are tasked with keeping inflation – rises in the prices of goods and services – low and stable.

The normal way we meet our inflation target is by changing Bank Rate, a key interest rate in the economy.

When the global recession took hold in late 2008, we quickly lowered Bank Rate from 5% to 0.5% to support the UK's economic recovery. Lower interest rates mean it's cheaper for households and businesses to borrow money – which encourages them to spend and invest, whether that's a family buying a new car or a company wanting to build a new factory.

But there's a limit to how low interest rates can go. So when we needed to act to boost the economy, we turned to another method of doing so: we introduced quantitative easing. Full Story